Membership Advantages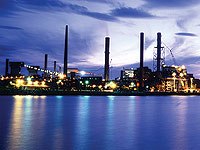 bluescopesteelconnect.com® is a place for approved BlueScope Steel customers to transact with BlueScope Steel using a range of easy to use online applications.

Easier, Faster and More Cost Efficient
Your entire catalogue of previously ordered products for BlueScope Steel Australian
Coated & Industrial Markets is available over the Web. All data is up to date and downloadable in a choice of formats.

By using bluescopesteelconnect.com® you'll experience immediate and significant cost savings in the storage and maintenance of data, for example, eliminating fax and mail costs.

bluescopesteelconnect.com® functions include:
Order Placement
Via the Repeat Order Placement and the OrderIntegrator® functions. Access your repeat order catalogue online, select the items, quantities and the delivery timing, then send the order.
Order Detail & Status
Check where your items are post-production. Drill down to obtain unit ID's and despatch information.
Test Certificates
Find and print test certificates. Reduce filing, storage and retrieval costs of quality documentation.
Allow your best customers to access this information directly.
Invoices, Adjustments & Statements
Simplify and speed up your reconciliations. Drill down to obtain despatch information and unit IDs.
Despatch Details
Search your despatch history of goods received, or goods still in transit.
Surplus Stock Auction
Purchase surplus prime stock through an online blind auction system.
Price Lists
View and print price lists.

Of course bluescopesteelconnect.com® is just another part of our service to you. We will continue to provide quality brands and products, unparalleled technical support and on going commitment to state based representation.

bluescopesteelconnect.com® steel at your fingertips, 24 hours a day, 7 days a week.